The effective cloud infrastructure demands effective structure & organization to perform the different operations. It doesn't need a massive endeavor to perform execution & cloud planning. A small group of targeted IT & business professionals can effectively manage that.
---
---
Defining Cloud Operations
Cloud technology operations are described as the delivery of superior cloud services. Nowadays cloud computing operations have become famous & widely used by many or IT enterprise & business organizations because it allows performing all tasks over the internet. Users can perform cloud operations using web-applications or via mobile based applications.
Cloud can perform some operations. These are listed below:
Electronic Mail (E-mail)
Content Management
Human Resource (HR) management
Accounting Services
Online Marketplace
Systemwide Reporting
Security
Figure - Types of Operations in the cloud: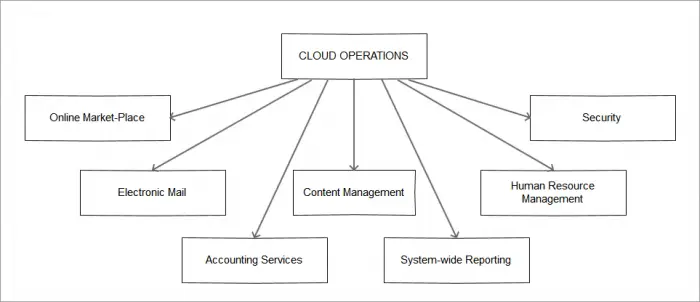 Cloud Operation Management
There are several procedures to handle and manage cloud operations. These are listed below:
Use efficient processes: Well-organized tasks & processes can save efforts and time also.
High QoS (Quality of Service): QOS should have to be maintained to avoid further work on the same thing.
Proper Resource Selection: Selection of the appropriate resource is also required to be done carefully for cloud operation management.
Time is working: Cloud related tasks should have to be done at the right time keeping in mind the cost allotted to it.
Standardization: The processes should have to be standard to manage tasks efficiently and automatically.
Use of right tools: Using proper tools & resources to do appropriate tasks and functions in the cloud.
Security: Security has to be a part of any discussion and operation as the structure and organization of the cloud infrastructure also depends on cloud security.
---
---
Found This Useful? Share This Page!