WordPress Dashboard is the first screen of WordPress admin control panel after the login. Its provides website information at a glance, it's easily customizable and provides quick access to other pages.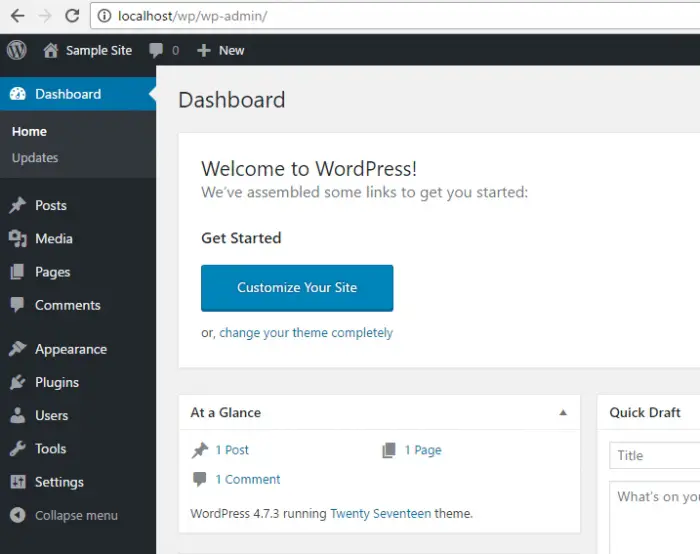 WordPress Dashboard Features
These are the features available on the WordPress Dashboard:
Top Admin Bar
Admin Sidebar Menu
Screen Options
Welcome to WordPress
At a Glance
Activity
Quick Draft
WordPress News
Top Admin Bar
WordPress Top Admin Bar provides some shortcuts links which include notifications about plugins updates, user comments, write or edit the post, user options etc. You can see that it will be available on all pages of WordPress after login, for your convenience.
Admin Sidebar Menu
WordPress Admin Sidebar Menu provides main admin options which include links such as Posts, Media, Pages, Comments, Appearance, Plugins, Users, Tools, Settings etc.
Screen Options
The WordPress screen option is related to the current page customization, it may contain some checkboxes to show and hide some screen options.
Welcome
It provides some useful links and steps for the first time to start working with WordPress.
At a Glance
It provides a quick overview of a number of published posts and pages and also provides the current WordPress version and active theme information.
Activity
Activity widget provides quick access to the latest posts and comments. It instantly offers the option of accepting, declining, answering, editing, deleting and marking a comment as spam.
Quick Draft
Quick Drafts allows you quick access to write and save content from the dashboard. You can draft or publish new content from here that came to your mind.
WordPress News
The WordPress News widget gets information from the official WordPress blog, which contains information about the latest software releases, updates, news and alerts.