Updating WordPress like any other tool and application is essential to stay on the safe side. The upgrade process can affect all files and folders included in the main WordPress installation directory. It contains all the main files used to run WordPress. If you have made any modifications to those files, your changes will be lost. In this chapter, you will learn how to update the WordPress version and why you need to do so?
Why Should a WordPress Site Be Updated?
Security reasons: WordPress has a lot of bugs and vulnerabilities that are found regularly. They are more or less a threat to WordPress user's data. Therefore, WordPress updates are mandatory as these updated patches constantly fix many security issues and errors, making it difficult for hackers to penetrate your site.
New features and functionalities are added to each new updated version. The new integration is done with efficiency in features or with improved functionality.
Speed: Optimization is an essential factor in today's internet era, and updates will make your website faster. And who wants a slow site, anyway?
Compatibility with modern tools and technology: With the fast pace of technological change, your tool must comply with the standard and user's expectation that WordPress does.
Process of Safely Updating a WordPress Site
Backup your site: The first step you have to take is to ensure that your site data is safely stored somewhere because if the update went wrong, it won't affect the content and provide you a restore option to the old version of your site from a particular backup.
Turn the cache off: Next, all you have to do is check if the cache plugin is enabled or not; If yes, turn them off at update time. Caching modifies the way your site works on the back-end to improve your site's performance.
WordPress Updates
Navigate to your main WordPress admin page. If you are not already logged in, you may be asked to log into your WordPress account.
The latest WordPress version provides a page for updating files, databases, plugins, and themes.
Go to the WordPress update page under the dashboard menu. Related instructions for backup are given on this page.
On this page, if an update is pending, you will be prompted by WordPress. Follow the instructions to update it manually.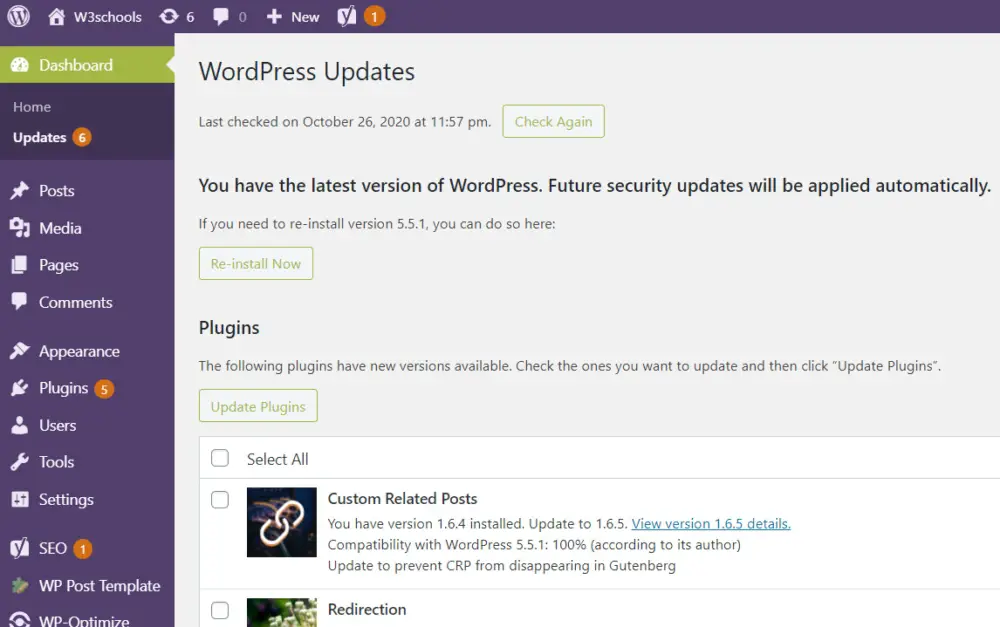 You can check the activity of your site as soon as the latest version of WordPress is updated.
---